WHAT IS VETERANS FIRE CORPS?
Veterans Fire Corps is a collaborative initiative that builds upon the knowledge, leadership experience and training men and women who served in the armed forces, retraining them and refocusing their mission to protecting our public lands from the threat of wildfire.  The model, a three tiered Firefighter Leadership Development Program, focuses on providing incrementally more challenging experiences for program participants.  The curriculum and training is broken into incrementally more challenging work and training environments.  Initial project work generally includes introductory fuels reduction, work, leadership training and minimum exposure to fire suppression.  The experience and trainings provided in the Veteran Fire Corps program are designed to prepare program participants for positions in as wildland firefighters.
WHY JOIN THE VETERAN FIRE CORPS? 
TO LEAD AND INTEGRATE
You can leverage your leadership skills while transitioning back into civilian life.  The program is focused on helping veterans transition to civilian life by leveraging their leadership experience to meet pressing conservation needs on public lands while providing job training for future employment in the wildland firefighting field.
"The work is tough and dirty but is purpose-driven, which I believe is very attractive to veterans.  There's also the excitement and adrenaline rush that pushed us toward the military. There is a sense of national service which all of us are proud to be a part of."
— Lew Sovocool, former VFC leader and supervisor
FOR PURPOSE
You will share a new mission in life with other Veterans.  You will be protecting our nation's forests, grasslands and neighboring communities from wildfire while meeting the United States Forest Service's employment needs with the next generation of diverse public land managers and employees.
"There's a sense of teamwork and camaraderie that exists in wildland firefighting that is very similar to that which we all experienced in the military." — Lew Sovocool
TO GET AHEAD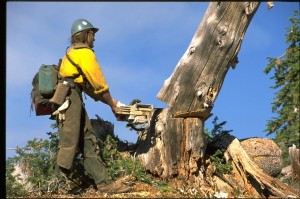 You will be joining a program that works and that provides opportunities for advancement.  Past program participants moved on to jobs as wildland firefighers on hand crews, engines and a hotshot crew.  At the conclusion of each  session each participant is provided guidance on applying or positions with federal, state, local and private fire management agencies.
"With the combination of all the classes, contacts, and me being a badass, I have landed a job on a fire engine for the upcoming season and plan on making wildland firefighting my career." — Ross Schumaker, former VFC leader
TO GIVE AND GET SOMETHING BACK
You will receive both training and compensation.  Squads work on fire mitigation/fuels reduction projects within public lands. The program is broken into tiers with each providing increasing levels of training and exposure potentials. Crew members will earn a modest stipend during the program.  Make a difference as a veteran on a conservation service fire mitigation team.  Veteran fire crews are conservation service programs that offer seasonal positions for veterans to complete fire mitigation on public lands while earning certification and experience that could lead to future employment in wildland fire fighting and related fields
QUALIFICATIONS
You must be over 18 years of age and a U.S. citizen who has received a high school diploma or GED.  All position offers might be conditional upon completion of an acceptable check of the National Sex Offender Public Registry and federal criminal background check. Must be a veteran of the United States military and have the ability to provide DD214 or other proof of service and status of discharge.
TO APPLY
For upcoming program and application information, please click here.